In December 2019, the CalWest Educators Placement team attended the National Association of Independent Schools People of Color Conference (PoCC) in Seattle, WA. Throughout the event, we met hundreds of independent school educators, soaked in the words of many powerful speakers, and ended on a high note hosting Club PoCC to crowd of more than 1,000 attendees.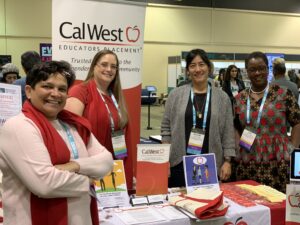 Building deep and lasting relationships within the independent school community is the heart of what we do at CalWest. PoCC has always been an invaluable opportunity to meet with schools and educators, but it's grown into a place where educators come to connect, enrich, and push boundaries.
"This year was intense, fast-paced, and full of big ideas from beginning to end. [PoCC] goes beyond networking. It's a gathering place where people can hold space and connect with people they've gotten to know over many years in this community," said Lois Mufuka Martin, VP of Search and Consulting at CalWest, reflecting on her third year at PoCC.
Pauline Zeitlin, CalWest's Director of Finance and Administration, also valued how connections at PoCC reached a deeper level.
"One of the best parts is having in-depth conversations with so many people about their specific experiences as underrepresented educators…[PoCC] is emotional because it's personal,"  She noted that the conference creates an atmosphere where attendees can share positive and negative experiences with peers and leaders alike. 
This year's theme, 1619. 2019. Before. Beyond. Amplifying Our Intelligence to Liberate, Co-create, and Thrive,  reflected on the role of slavery and colonization in building America's prevailing systems of power while also looking forward, encouraging educators of color and allies to co-create safe, just, and equitable spaces. 
The intense conversations and emotional lessons from PoCC continue to resonate in the CalWest staff's day-to-day work. As we prepare for another exciting recruiting season, PoCC serves as a reminder of the importance of advocacy and equity in providing placement services. 
"We must always remember the 'why' and the purpose of our work. Our role is not just to be allies but to be accomplices in building diverse, inclusive, and welcoming schools," said Mufuka Martin, touching on CalWest's rising prominence in the diversity, equity, and inclusion space. One major takeaway for Martin was one of semantic importance, namely reframing "diversity" as "social justice," which moves DEI work in a more holistic direction.
"Social justice looks different at each school. We have to tailor our approach with everyone we work with" said Havila Eubanks, CalWest's administrative coordinator, emphasizing how her time at PoCC invigorated her approach to providing highly-evolved searches for CalWest's partner schools.
For more information about NAIS PoCC, visit https://pocc.nais.org/.